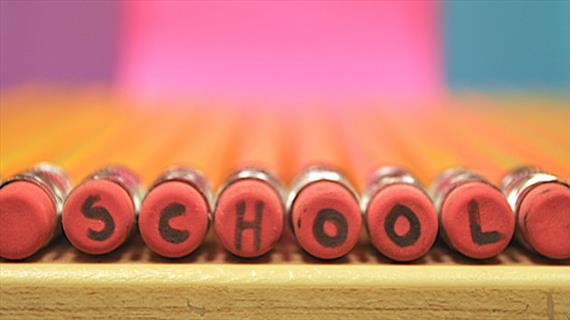 We can't be the only ones geeking out over the new pencils, markers and folders hitting store shelves. Are you feeling the excitement too? We can't help it—there's nothing like fresh school supplies to make us feel the promise of a new year. As you start to create your own school supply list, here are seven bright ideas to keep in mind.
1. Take stock of last year. Did you run out of any supplies too quickly? Were there any projects that could have been improved by asking for additional supplies? Let past experience help you to shape your list. (If you're new to teaching, consider checking out a veteran teacher's list on TeacherLists.com for some guidance.)
2. Request materials that encourage independence. Your school supply list should make your life easier, not more difficult. Consider mechanical pencils instead of ones that have to be sharpened. Ask that student planners have space for real kid handwriting—even middle school boy scrawl. Don't include anything that you will have to spend time corralling or gluing back together.
3. Be specific. With your classroom experience, you know what works and what doesn't. So if you'd like students to use a specific brand of glue or the folders that come hole-punched, feel free to include those recommendations on your list. Just be prepared to provide backup if for whatever reason families can't provide all of the materials on your list.
4. Divide personal from community supplies. You might ask everyone to bring in three folders, for example, that they will use to store individual work. Have parents write students' names on supplies like these. Other materials, like crayons or markers, can be added to a community tub and labeled "Mrs. G's Second Grade Class."
5. Don't forget your cleaning cabinet. We know tons of teachers that ask for facial tissue (note not for publication: tissues are the #2 most requested item on all lists – pretty wild)and paper towels, hand wipes and antibacterial spray. While these items may not seem essential to learning, they are in short supply at many schools and parents will appreciate your effort to create a healthy classroom.
6. Include recyclables and volunteer time too. From the start, families will be more receptive to your list if you phrase your requests as "nice to haves" rather than needs. Adding craft supplies such as rinsed milk jugs and paper towel tubes may also motivate parents who don't have much extra to contribute but can share these items. The same is true for "Halloween party help" or "reading corner time."
7. That said, it doesn't hurt to ask. If you truly need new computer software or reams of copy paper, put those items on your wishlist. You may be surprised by families' generosity or their connections to local merchants.
Question for you: What's on your school supply list? Share it and you could earn two free ELMER's glue sticks.