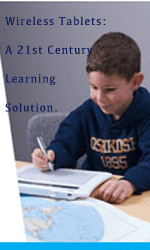 Forget the bulky television carts of the past. Today we can share movies, video clips, websites and student work on a high-tech flat screen, like NEC's 55" LCD Display and make it interactive using eBeam's Inscribe Wireless Tablet. Here are five ways you can use these tools together to help students engage with your lessons and retain the material you are teaching.
1. Display student work. Display screens come with a USB port and other connectivity options so that you can display any file. Try displaying student examples as models in writing workshop or using a top-notch essay as a rubric for others. Seeing other students' work provides realistic, attainable goals for kids.
2. Encourage kids to use the tablet when giving reports or presentations. Incorporating the tablet as a presentation tool will give reports a new level of interactivity and encourage students to be creative in delivering their material.
3. Show students how to be smart researchers. Because the LCD display allows you to show websites so largely and clearly, it's a great way to examine sources together and identify the signs a site is credible or not. Use the tablet to annotate copy and focus on areas of particular interest, like copyright or unique visitors.
4. Turn kids into TV stars. Film your students reading a book, giving a report or sharing the weather. Then watch the video on the large screen display and discuss strategies for improving fluency or presentation skills.
5. Skype with an author or expert. These visits are often less costly than in-person ones, and the large format of the LCD display makes it seem like your guest is live!
Question for you: If you had a wireless tablet and LCD display how would you use it in the classroom? Share your best idea and you could win a complete technology makeover! Click here to learn more.