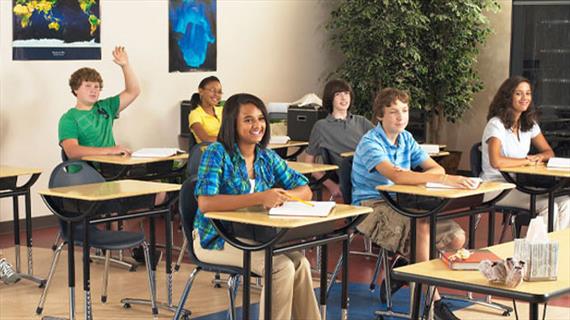 As an educator you spend so much time planning lessons, activities and classroom projects to help your students become the best learners they can be. But what about your classroom space? So often, our classroom set-up is not as conducive to learning as we wish it was. While you can't raise the ceiling or add windows, there are practical changes you can make to the physical space of your classroom that will have a positive effect on learning. Here are five ways to help ensure that your students have a comfortable, non-distracting and learning-friendly classroom in which to learn:
1. Change It Up. Some learning units work best with student desks arranged in small groups, while others work more smoothly when the desks are arranged in a circle. So start looking at your classroom furniture arrangement as moving and breathable. Consider innovative classroom desks that easily adjust to various learning situations.
2.  Go Module. Make sure your students always know where to go to get the learning tools they need. One idea is to break your classroom into sections or modules that have different purposes. For example, make the back right corner your "reference library" and place bookshelves full of reference books and tools. Make the front left corner "supply central" and stock a classroom tray unit with supplies like markers, glue, scissors, staplers and more.
3.  Height Matters. If chairs and tables are too big or too small, it can distract students from learning. So if you don't have access adjustable-height desks, consider swapping with a teacher of a higher- or lower-grade for different-sized desks to make sure that each student's learning space is appropriately sized for his or her individual needs.
4.  Walls Are Teaching Tools. Every classroom decoration should meet a teaching goal. From ABC's and classroom charts to word walls and world maps, if it's on the wall it should serve a purpose. That doesn't mean your walls have to be drab, think colorful and inspiring! After all, a cheerful classroom is one of your goals too.
5.  Get Tech Organized!Technology gives us fabulous teaching tools, but too often we lose valuable learning time to the set-up process. Ever waste 10 minutes trying to get an extension cord, anyone? Perhaps your classroom set up is getting in the way. Next time you reorganize your classroom, think about the location of plugs, speakers, and the classroom projector in advance. Even better, try to go mobile. A mobile technology cart helps ensure your technology is ready to go each morning so that your tech can work for you and not against you.