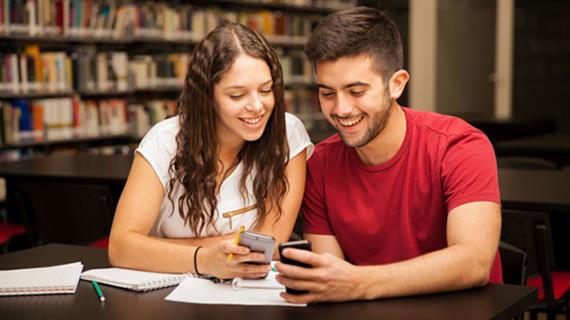 We have a love-hate thing going with the idea of a BYOD (​bring ​your ​own ​device) classroom. We love that each student in a BYOD classroom has the ability to work on the technology with which they are most comfortable. And we really love that teachers don't have to deal with the logistics of school-owned technology. But we really don't like the fact that teachers in BYOD schools have to adapt their lessons to work on a variety of mediums and with a variety of platforms. Talk about a workload!
That said, there's a lot to love with the BYOD model, especially when it comes to special education. Sure, there are hoops to jump through, but there are also enormous benefits to giving special-education students access to the technology that fits them best. Here are five ways BYOD can make a big difference:
Benefit #1: Students Choose the Tech That Fits Them Best
We all have our technology preferences, and the last thing a student needs is to get used to one type of technology at home and be forced to use another at school. In a BYOD classroom, students who love iPad can bring an iPad and students who love a Kindle Fire can bring a Kindle Fire.
Benefit #2: Students Can Download the Apps They Need
The big catch with school-owned technology is that oftentimes students aren't allowed to download applications to the devices. With BYOD, special-education students can download apps that were designed to fit their exact special needs straight to their own devices.
Benefit #3: Students Are Forced to Be Responsible
The quintessential "dog ate my homework" excuse will become a thing of the past when students have the opportunity to keep their homework, their books, their apps, their videos and their music on one handy device. And you'd better believe that they'll be extra-vigilant to take care of that one handy device, too, since it gives them access to so many resources.
Benefit #4: Differentiation Becomes More Manageable
We aren't going to lie: Differentiating a BYOD classroom is a lot of work. But when you're dealing with special-education students, differentiation is always a lot of work. And when your students have access to specialized technology (like a read-aloud function on e-books), they have access to the tools they need to thrive.
Benefit #5: Students Can Work at Their Own Pace
With BYOD, students have the opportunity to bring all of their learning resources with them wherever they go. That means if a student needs a little more time to finish an assignment or lesson, they have the ability to do so.
Question for you: Do you like the idea of a BYOD classroom? Do you think it would help your special needs students?