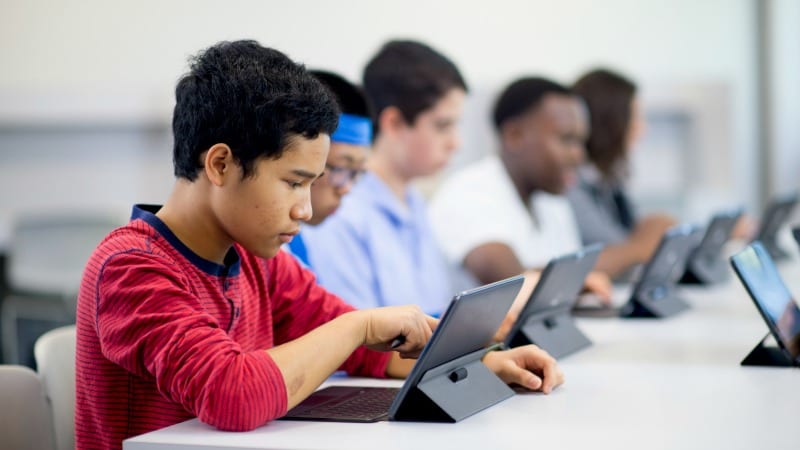 When we talk to teachers about EdTech, we often hear some trepidation as teachers are concerned that EdTech devices will take over their classrooms and the impact of real, human teachers will be diminished. So, our team did some research to find out how teachers can effectively use technology to enhance their lessons without overriding the need for human interaction and instruction.  Here are five ideas.
Use tech to pre-teach.
One teacher shared with us how important he thinks hands-on learning is in his science class—so when his co-workers started buzzing about the new frog dissection app, he was hesitant. Then, he realized that if he used the app to pre-teach before his students did the frog lab, it was a win-win.  He checked out his school's mobile iPad lab and let his students explore the app the day before their frog dissection lab and the students entered dissection day prepared and ready to learn.
Enrich with EdTech.
Another teacher shared with us how her student enrichment activities have been, well, enriched, by edtech.  While in the past she had to rely on worksheets and small, simple activities for students who needed enrichment, she now has an iPad, a laptop and a few LeapFrog Explorers in her classroom that are loaded with games and apps that greatly enhance learning for her upper-level students.
Support with technology.
Edtech can help struggling students as well.  With tons of apps and programs that teachers can use to help students with everything from blended learning to specialized instruction, utilizing tech devices is a great way to give special attention to your kids who need it.
Engage with technology.
Use edtech to whet your students' appetite for a certain topic. Start your class by listening to a short podcast on a certain topic and ask your class to guess what you'll be learning about that day based on the podcast topic. Or show your kids a slideshow of photos on your document camera or projector and ask them to find three links between all of the photos.
Make learning fun with technology.
Lots of recent research has shown that when classroom activities are fun as well as educational, kids pay better attention and learn more. But you already knew that, didn't you?  And with that in mind, we want to encourage you to always consider how technology, fun, and learning can intersect with your lessons.
Question for you:  Could you live without technology in your classroom?