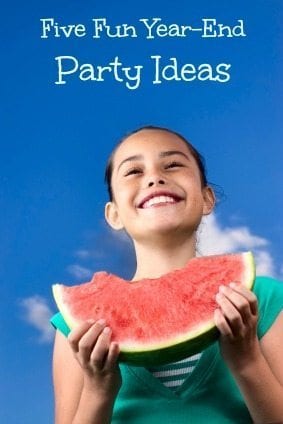 As the school year wraps up, it's time to celebrate all the hard work you've accomplished and ring in summer vacation. These five end-of-school party ideas give students a memorable send-off!
Aloha Party: Run with a Hawaiian theme and play games like the limbo, create "island" snacks like pineapple skewers and coconut treats, hand out leis (or make your own with paper flowers as a classroom project), and hide small toys as treasure in a sandbox.
Camping Party: Set up small, makeshift tents as play stations inside and outside the classroom, prepare fun, nature-inspired crafts, and play nature word games. Serve s'mores (made with marshmallow whip), trail mix and "bug juice" as tasty treats.
Carnival Party: Set up small game booths where kids can play games like bean bag toss and the duck pond. Let kids redeem tickets for small prizes and serve popcorn and juice pops as concessions.
Picnic Party: Decorate tables with checkered tablecloths, serve mini–sub sandwiches, watermelon slices and root-beer floats, and play field-day outdoor games like water balloon toss and a three-legged race.
Show Time: Host a mini–talent show and ask each child to share a trick or talent with the rest of the class like a song, skit, dance or magic trick. Have a joke book on hand for kids who don't want to perform to read from and give everyone a laugh!
No matter the theme, you and your students are going to have a blast! Make sure class parents who help are sensitive to your school's rules about parties, snacks and gifts, include everyone, and more importantly, HAVE FUN!

Organizing the class party is easy with free online signup sheets from VolunteerSpot! Quickly invite parents to help during the party, or to bring food and supplies. Simple sign-ups and automated reminders reduce your busy work and leave you more time to focus on what's important. Get started now.