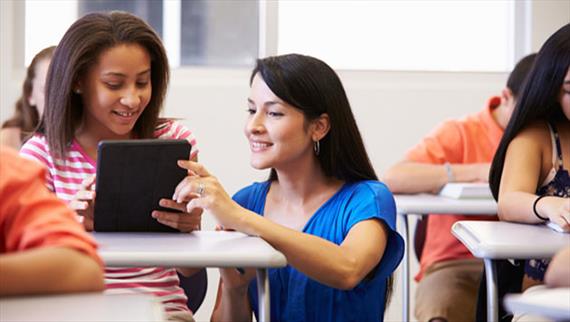 Brought to you by Promethean
More
Have you ever felt a little bit old-school as your students whiz around the latest technology with ease while you … well, it takes you a bit more time to figure things out? Kids these days have a knack for technology, which means when you're using your interactive whiteboard as a fancy power point, they're wondering why you haven't delved into the depths of your technology and unlocked all the secrets. We can help. Here are five things you probably didn't know you could do with (free) ClassFlow technology in your classroom.
Create questions that encourage creative thinking.
One of the coolest features of ClassFlow's online tool is their Assessment Builder tool. This tool allows teachers to build differentiated assessments that can be delivered to each student's personal device. But what makes the Assessment Builder really stand out, especially for math teachers, is that question options don't stop at multiple choice or short answer. There is also a creative-response question where math teachers can add diagrams, charts, graphs or other pictures to help with the question.
Encourage your students to use their toolbars.
In addition to great question options, ClassFlow also has a StudentApp with a toolbar that goes way beyond word processing. They have access to a shape tool, a pen tool and a text tool, to name a few, so they can solve math problems with their own graphs and diagrams. So when you ask them a creative question, they can truly give you an answer that demonstrates understanding.
Use the equation builder when planning lessons.
It's super-easy to build equations—everything from simple arithmetic to complex calculations—that your kids can then solve on their 1:1 devices or you can display on your interactive whiteboard.
Quickly aggregate results.
We just read an article where a principal said he sends out information to all of his teachers' screens to ask them questions and quickly aggregate data. We couldn't help but wonder if this wouldn't also be a great way for teachers to quickly check for understanding or aggregate student results. Share your question with them and get almost instant class-wide feedback.
Use student cards and teacher cards. By creating cards (like slides) specifically for teachers and students, you are able to determine which information your students see on their individual devices versus what you display on the main screen. This makes lessons seamless and allows you to control content in a very meaningful way. To learn more, click here for an informational video.
Do you have any ClassFlow hacks that you'd like to share? Tell us about them in the comments.