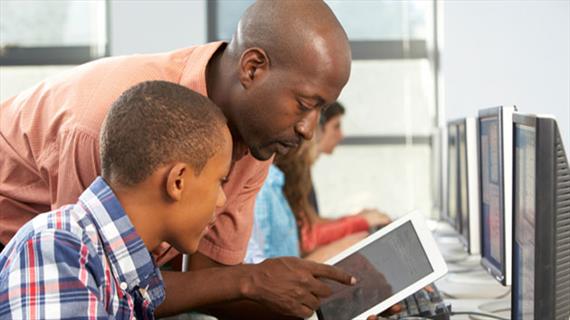 Brought to you by Promethean
More
We get it: Sometimes technology can be daunting. And when you're dealing with 25 students, five days of lessons and a grading stack that almost reaches the ceiling, the last thing you have time to do is figure out all the ins and outs of your classroom technology. So we're doing it for you. Here are five simple tricks that you might not know about how Classflow's all-in-one learning tool can make a difference in your classroom.
Easily clip relevant articles for your class.
Have you ever been reading along and found an article or photo that you would just love to use in class? Now you can … simply and easily! Use the ClassFlow Web Clipper tool to send an entire Web page or article into your interactive whiteboard or student 1:1 devices all while staying on the page you're on. Click here for simple instructions.
Collaborate.
Have your students collaborate seamlessly in a group setting by having students individually respond to a photo or piece of text on the board, and then send their answers (whether they are written or drawn) to the main display. This helps to easily and cohesively assimilate information in a way that's organized and fun. (Check out how one teacher does this at the bottom of this article.)
Find a reference library at your fingertips.
Back in the day, there were entire rooms of libraries dedicated to reference books. And now they are all available at the click of your fingers. Kind of blows your mind, doesn't it? But ClassFlow has partnered with Rand McNally to offer an entire reference library of maps, atlases and reference materials to ClassFlow users. Score!
Get interactive lessons from other teachers.
Writing a good lesson takes a lot of time. Why not share the love? Head to the community tab on ClassFlow and head to the lessons page, where you'll find loads of teacher-created lessons that you can use.
Use graphic organizers.
Lessons run smoothly when kids can easily interact with the content. One way to make this seamless is to send a graphic organizer card to your students' devices while they watch a video or presentation. Then they'll have a meaningful place to take notes as they focus on the new content.

Do you have any ClassFlow hacks that you'd like to share? Tell us about them in the comments.