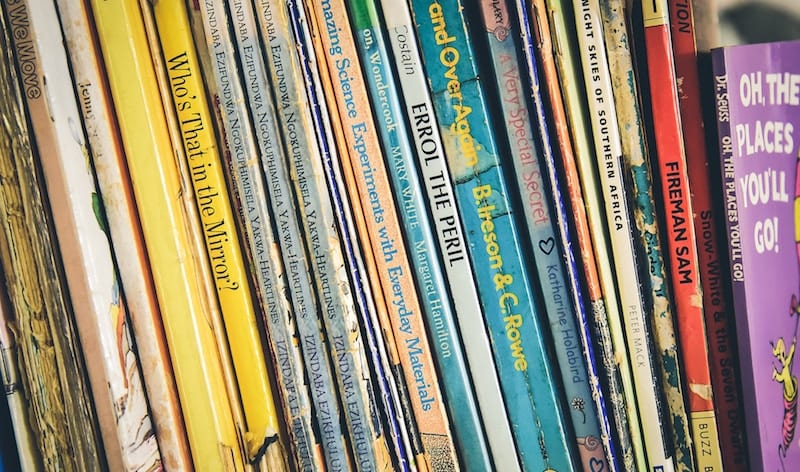 In your efforts to turn students into lifelong readers, why not turn to stories that celebrate reading itself? In these five recent titles, books take center stage, sending the message that through reading, anything is possible. Here are our favorite books about books (and get more titles to inspire readers here).
1. The Lonely Book
Written by Kate Bernheimer, illustrated by Chris Sheban
In the tradition of Don Freeman's "Corduroy" and Virginia Lee Burton's "The Little House" comes this tale about a library book that is at first adored and checked out by young readers, but then abandoned to a dusty shelf. Until, that is, a new reader discovers the joy between its covers. Best for grades PreK­–3.
Activity to try: Enlist the help of your librarian to find "lonely books" in your school's collection (stories that haven't been checked out in some time). Invite students to create an engaging display for the books that will attract new readers.
2. No Bears
Written by Meg McKinlay, illustrated by Leila Rudge
The spunky narrator of this picture book is tired of grumpy bears in stories, so her goal is to tell a fairy tale with NO bears—except, as your eagle-eye readers will no doubt catch in the illustrations, sometimes they manage to show up in unexpected ways. Best for grades PreK–3.
Activity to try: Pair with Emily Gravett's "Wolves" or Phyllis Root's "Looking for a Moose" and talk about how a story's pictures sometimes tell us things the words don't.
3. Storybound
Written by Marissa Burt
While the premise of this middle-grade fantasy may seem familiar (the main character, Una, finds herself sucked into a mysterious book), the fresh details and twists on fairy tale conventions will have upper-elementary readers eager for the next two installments of the trilogy. Best for grades 4–7.
Activity to try: Challenge students to write their own adventures set in the world of a well-known story, such as "Harry Potter" or "The Wizard of Oz." Have children share their work aloud; the other students can try to guess the source of inspiration.
Teachers know that the right book can be a salvation for a struggling student. And such is the case in this moving novel about a 11-year-old whose mother is dying. When Ella learns that a special volume has disappeared from her grandmother's library, she embarks on a journey that ultimately will bring her peace. Best for grades 4–7.
Activity to try: Have students share with a partner about books that have changed their lives. Then invite students to create digital posters commemorating those meaningful titles.
Are we born to tell stories? That's the argument Gottschall makes in this compelling nonfiction look at "how stories make us human." Spark a lively discussion in your English class by assigning a portion of the book as homework, then talking about the science of storytelling in class. Best for grades 10 and up.
Activity to try: Host a debate in which teams of students argue for or against Gottschall's thesis. Encourage students to use research as well as anecdotes from their own lives.
"The Neverending Story"? "The Princess Bride"? What are your favorite books about books?