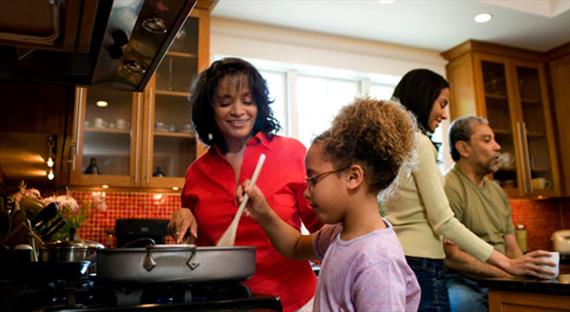 You might not think of stocking your classroom library with cookbooks, but surprisingly, reading and cooking go hand in hand. Especially during the summer, when the amount of reading of chapter books and other stories may decline, following a recipe is a great way for kids to practice comprehending and interpreting nonfiction text. And who knows? You might try adding some cookbooks to your classroom collection as well. Here are a few of our recent favorite cookbooks for kids.

1. Easy-Peasy Recipes: Snacks & Treats to Make & Eat
Written by Karen Berman, illustrated by Doreen Mulryan Marts. $14.95.
The best part about the simple recipes in this collection is that none of them requires an oven, knife or stove—which makes whipping up goodies like "Starry Night Sandwiches" and "The Breakfast Train" perfect to try out in the classroom. Set up a cooking station and kids will practice not only reading skills but math and measuring too! Best for grades PreK–3.
Activity to try: Host a reality TV–style cook-off in which you challenge small groups to make one of the recipes in the book. Check how well students followed instructions by having "celebrity judges"—like your principal—sample the goods.

2. The Mayo Clinic Kids' Cookbook
By the Mayo Clinic. $19.95.
From the nonprofit medical research group comes a collection of tasty, well-balanced snacks and meals for kids of all ages. Your students will love creating favorites such as pizza and chicken nuggets, and you'll appreciate that all of these treats are made with a healthy twist. Best for grades K–8.
Activity to try: Have students research food groups at ChooseMyPlate.gov. Then encourage children to design and prepare meals using recipes from the cookbook that represent recommended daily nutritional balance.

3. Tate's Bake Shop: Baking With Kids
Written by Kathleen King. $12.99.
Of course, healthy eating is all about moderation, and sometimes a special treat is in order. That's where this simple guide comes in, which encourages children to re-create sweets from the famous bakery in just five easy-to-follow steps. Bonus: The pages wipe clean too. Best for grades K–8.
Activity to try: After sampling one of the yummy desserts, invite students to practice how-to writing by creating their own five-step recipes for a favorite snack. Kids can "check" each other's recipes by trading them and trying them out at home.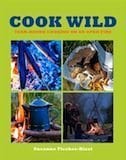 4. Cook Wild: Year-Round Cooking on an Open Fire
Written by Susanne Fischer-Rizzi. $24.95.
An especially fun read for those going on summertime camping trips, this cookbook is the ultimate guide to cooking over a fire. While it's true you may not want to try these recipes in the classroom, the concept is sure to appeal even to your more reluctant readers. Best for grades 4 and up.
Activity to try: Invite students to write about what they would eat on an ideal camping trip, choosing recipes from the book. Print students' writing on red and orange construction paper, and cut into flame shapes for a fun summer bulletin board.
Question for you: Do you have cookbooks in your classroom library? Have you ever tried cooking a special meal or snack with your students? Please share your experiences below.