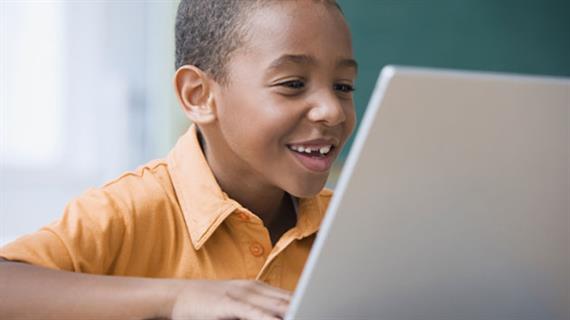 Your grandma may have told you that she walked to school every day uphill, barefoot and in the snow. But with the way technology has changed education in the last few years, we have a feeling you'll soon be regaling your students with tales about how tough youhad it. It wasn't that long ago, after all, that students had to lug heavy backpacks jammed with textbooks to school every day and teachers had to (gasp!) use overhead projectors and copiers to easily distribute and assess information.
New technology not only makes lesson planning and teaching easier, it also simplifies learning. Here are four ways you can utilize the latest ed tech to streamline classroom tasks so your students—and YOU—can focus on what really matters:
1.  Simplify Interactivity
By using technology to build interactivity into your lessons, you'll be able to easily track student progress and encourage student growth. New tools like HP 's education software, HP Classroom Manager, enable you to interact with all student PCs, enriching student learning by allowing collaborative sharing of messages, websites and documents, as well as group interactions and more.
2.  Simplify Reading
It's still amazing to us that a little bitty tablet can hold hundreds of books. And by enabling your students to use tablets to store books and reference materials, you're giving them instant access to all of the resources they need to learn. Have them download the Kindle App onto their tablets (it's free for Android tablets here) or invest in an e-book library like StarWalk Kids Digital Library that will give your students access to hundreds of e-books.
3.  Simplify Classroom Management
It's pretty obvious to anyone who has been in a classroom for more than, say, 10 minutes that students who are engaged behave better. And every day we're finding new classroom tools that engage learners and lead to simple classroom-management solutions. Try experimenting with devices such as tablets that allow students to work at their own pace or with software (like HP Classroom Manager) that enables you to tap into what your students are doing on their own devices.
4.  Simplify Differentiation
You're teaching 20 different students—each a unique learner with unique skills and talents. Help your students to learn in the ways that they are best equipped by installing well-researched guided learning programs onto your classroom PCs or tablets. Need recommendations? Check out Discovery Education or TouchMath Digital if you teach elementary school or Compass Learning Odyssey if you teach high school.