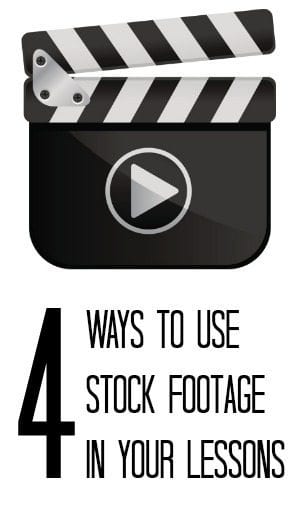 This is a guest post contributed by Danny Groner.

As education has embraced technology in the classroom, more teachers are exploring how to incorporate video into their lesson plans. We can all remember the days when teachers would show a video as a supplement to a lesson. But now, thanks to desktop digital editing,
teachers are experimenting with creating their own videos. In addition to making you look digitally savvy, it'll help you deliver more for your students.
Here are some ways to use stock footage as part of your videos:
1. Make science come alive
Science teachers are always searching for the most interactive and intriguing way to get students to connect with the material. Stock footage offers a great opportunity to get up close with nature, the human body, outer space, and more. Using a series of science clips in a video will keep your students engaged in ways that a long PBS documentary might not. With the right clips in hand, you can make science appear both everlasting and ever-changing at once.
2. Introduce different cultures
For a geography or social studies lesson, a textbook can only take you so far. You can learn about people and their heritage, but without a visual representation of who they are it's going to be difficult for students to relate. For example, take a look at some stock footage from Asia that clearly illustrates the sights and characteristics that make up Eastern culture. To truly paint the picture, you'll need to point to the different colors, clothes, and culture that comes across on the screen.
3. Explore dance around the world
Imagine you're teaching dance and you want your students to understand at the onset that dance is a language of its own that transcends physical country borders. At the beginning of the class, you can show a video collecting all of the different ways that people dance across the globe, the commonality being that every group of people finds its own inspiration and style. Check out how distinct these dances can be.
4. Get animated
Animation is a popular form of expression these days, especially among teens and tweens. Animated clips can help fill in the gaps or even to push forward an idea. Instead of making a piece of art to sit on their home mantles, encourage students to think bigger and broader and to make a short film full of emotion and story. You can lead by example by showing them what they can achieve with a little piece of stock footage.
Danny Groner is the manager of blogger partnerships and outreach for Shutterstock