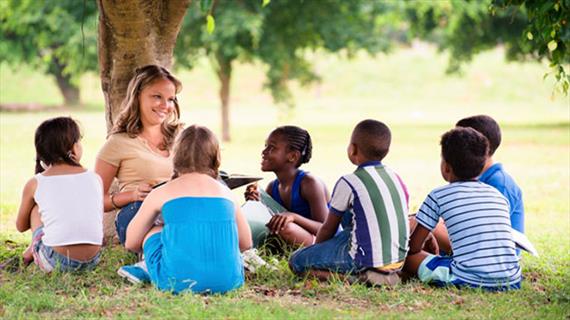 Whether you're packing up your own kids for camp or sending a postcard to a lucky student, don't forget the reading recommendations! These summer adventures are just the thing to keep campers company in a swinging hammock or awake by the light of the fire.

1. Zapato Power: Freddie Ramos Makes a Splash
Written by Jacqueline Jules, illustrated by Miguel Benitez. $14.99.
Pint-sized hero Freddie Ramos gets his power from his speedy zapatos (shoes), so he's not very excited about camp swimming lessons that require him to go barefoot. Chances are, you know a real-world hesitant swimmer who will relate to Freddie's plight and cheer for him as he learns to conquer his fears. Best for grades 1–3.
Activity to try: Ask students if they have any "magical" items that have helped them through difficult situations. Invite students to write about the items and then bring them in for show-and-tell.

2. In Search of the Fog Zombie: A Mystery About Matter
Written by Lynda Beauregard, illustrated by Der-Shing Helmer. $6.95.
Beauregard's clever Summer Camp Science Mysteries combine a traditional summer camp story with cool science facts and opportunities for learning. In the first volume, Angie, Alex, Braelin and Rashawn investigate the truth behind the mysterious "Fog Zombie" plaguing the camp. Best for grades 3–6.
Activity to try: Challenge small groups to write their own stories about a mystery that ultimately has a scientific explanation. Pitch a small tent in your classroom and read the stories by flashlight.

3. Cheesie Mack Is Cool in a Duel
Written by Steve Cotler, illustrated by Adam McCauley. $15.99.
In this follow-up to "Cheesie Mack Is Not a Genius or Anything," Cheesie and his best friend George face potential disaster when they are placed in the "Big Guy" cabin at summer camp. And just like in the first book, Cheesie's wacky adventures and funny lists will have your students laughing out loud. Best for grades 3–6.
Activity to try: Practice writing silly lists like Cheesie. Students can write lists about their hobbies, family members, pets or favorite jokes. The goal of writing the list should be to get the reader to laugh!

4. Secrets From the Sleeping Bag: A Blogtastic! Novel
Written By Rose Cooper. $12.99.
The premise of the Blogtastic! series is that 12-year-old Sofia keeps a notebook in which she scribbles material for future blog entries. It's a great hook for tech-savvy tweens, and anyone who's ever been reluctant to go to summer camp will connect with Sofia in this edition, in which she is forced to attend camp Krakatow. Best for grades 5–8.
Activity to try: Have students spend a few days making observations about their daily lives in a journal or notebook. Then invite your writers to compose blog entries based on what they recorded.
Question for you: If you were going to summer camp, what book would you bring? Why?