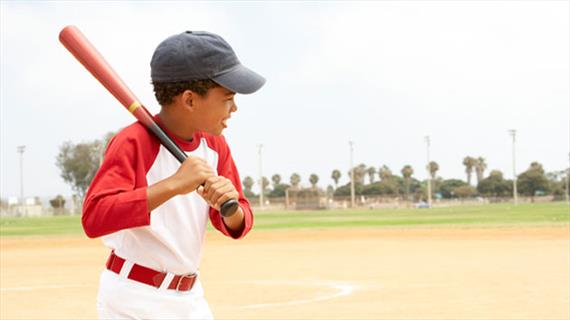 Batter's up! Good news baseball fans. We've got some great new reading recommendations that all celebrate America's favorite pastime. So hand out the peanuts and Cracker Jack, and cozy up to one of these baseball tomes.

1. Brothers at Bat
Written by Audrey Vernick, illustrated by Steven Salerno. $16.99.
Imagine having enough siblings to field a baseball team. While most modern families wouldn't make the cut, during the 1930s in New Jersey, the 12 Accera brothers lived together, ate together and played ball together, with their dad serving as coach. Students will cheer for this feel-good portrait of family life during a different era. Best for grades K–3.
Activity to try: Invite students to pretend that their families are sports teams. Who would play what position? What role would each family member serve? Have students write a story about their family "teams."

2. Poem Runs
Written and illustrated by Douglas Florian. $16.99.
As longtime fans of baseball and Florian's clever poetry (if you haven't already, check out "UnBEElievables" and "insectlopedia") we were thrilled with the arrival of these out-of-the-park poems, which cover all the highlights of our favorite game in only the way Florian can. It's the perfect book of verse to give a poetry doubter! Best for grades 1–5.
Activity to try: Have students paint their own masterpieces inspired by one of Florian's poems. Frame the paintings with ticket stubs, programs and other baseball memorabilia.

3. Plunked
Written by Michael Northrop. $16.99.
Upper-elementary and middle school athletes will no doubt empathize with sixth-grader Jack, who is reluctant to get back in the game after being hit by a stray pitch. This honest narration and portrayal of courage will resound with players and non-players alike. Best for grades 5–7.
Activity to try: Talk with students about turning points in their own athletic careers. Was there ever a moment when they wanted to quit a sport, or they stopped playing? Encourage children to share their experiences in writing.

4. One Shot at Forever
Written by Chris Ballard. $24.99.
In the style of "Friday Night Lights" comes the gripping story of a high school baseball team in 1970s Illinois that, with its English teacher coach and struggling roster could have defined underdog, and yet went on to the state finals. This compelling account reads like the best kind of sports movie. Best for grades 9–12.
Activity to try: Ask students to research articles written about the team and compare them to Ballard's account. How do they differ? How are they the same? Did Ballard take any creative license with the facts?
Question for you: What baseball books do you think hit it out of the park?