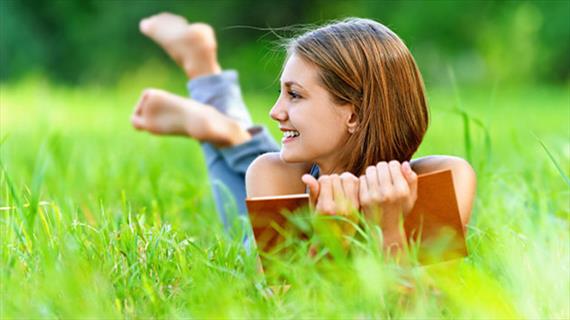 Earth Day is this April 22. What better way to celebrate all things green than with these environmentally friendly tales? Here are four Earth Day books we love plus related activities.

Written by Michael Catchpool, illustrated by Allison Jay
Best for grades pre-K–2
In this beautifully illustrated parable, a young boy who can spin cloth from clouds learns what happens when demand outgrows supply and natural resources diminish. An Earth Day read-aloud will no doubt lead to discussions about conservation, protecting our planet and standing up for what's right.
Activity to try: Ask children to imagine another natural resource disappearing, such as trees, grass or water. Write a collaborative short story or poem about what would happen in that event.

Written by Kate Messner, illustrated by Brian Floca
Best for grades 2-4
Author Messner always gets the classroom details just right in this sweet and funny chapter book series—perhaps because she's a former teacher herself. In this Earth Day installment, Marty's plan to turn the school garbage into fertilizer goes awry when she discovers it's not so easy to control a box full of worms!
Activity to try: Challenge students to take on Marty's task: start a project to save the Earth. Brainstorm ideas as a class or in small groups, and have students make lists of steps they will take and materials they will need. Document the process along the way, and at the end of the project have students reflect on the changes they have seen and the work that still needs to be done.

By James Mihaley
Best for grades 5­–8
While the environmental themes are subtle in this novel about a 13-year-old charged with saving the Earth from aliens who want to buy it, after your students are done laughing, you may find yourselves in a meaningful conversation about how we treat our natural resources and how we can protect them in the future.
Activity to try: Invite students to write poems with the title "You Can't Have My Planet." The poems should reflect the reasons why students love the Earth and want to protect it.

By S.D. Crockett
Best for grades 7–10
If your students enjoy dystopian novels such as The Hunger Games, they'll gobble up this heart-pounding adventure about a boy looking for his family in a world where climate change has led to a never-ending winter. Pair with Suzanne Weyn's Empty, about a world with no more fossil fuels, for a hard look at what may happen to our planet.
Activity to try: Ask students to compile images and music to create videos that evoke the bleak setting Crockett portrays in the story. Play the videos as an introduction to nonfiction reports on climate change.
Did we miss your favorite green adventure? What Earth Day books do you read?