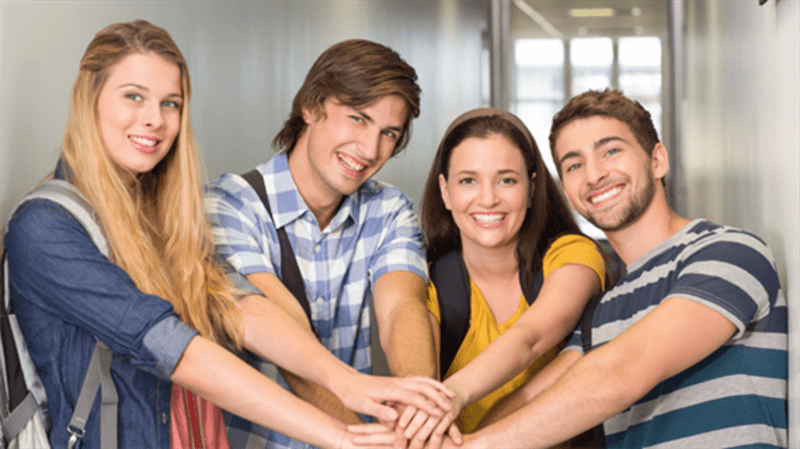 Brought to you by Odysseyware
CTE teachers already know this: Gone are the days of auto shop and cosmetology. Environmental management, health science and digital game development are just some of the amazing options for today's Career and Technical Education (CTE) students. So the next time somebody says, "You teach career ed? Whaaat?" here are a few things you can tell them.
1. It's much more than vocational ed.
If they think about vocational education at all, most people think of CTE as learning a trade—e.g., how to be a mechanic—but CTE is about much more than that. It's about finding and planning for a career. "Our goal for all our students," says Sandy Addis, executive director of the National Dropout Prevention Center, "is to have the skills, the technology base and the work habits to enter the career area they want." Schools are teaching courses that prepare students for careers in all of the 16 career clusters, from technology to health care to hospitality and tourism.
The ultimate goal is to have our students thinking about their futures as early as possible. Sean Plake, CTE teacher at Stratford High School in Houston, says his health-science courses give students specific knowledge and skills, as well as insight into careers in the medical field.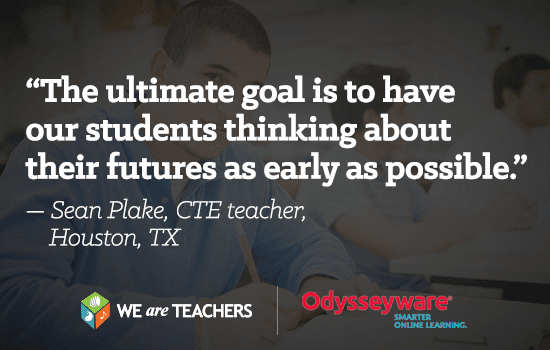 2. CTE boosts graduation rates.
Want 90 percent of your freshman class to graduate? It takes CTE classes to boost the national average graduation rate of 74.9 percent to 90 percent (Association for Career and Technical Education). The reason is simple enough: Students have an immediate and practical application for their CTE coursework, which makes school relevant. Hardly any students drop Plake's class—in fact, he's been surprised at just how many students have signed up.
3. CTE doesn't just take place in the classroom.
CTE starts in the classroom, but it quickly extends into the community and online. Local companies often help put the "career" in CTE when they plan a course in collaboration with a school. Students may spend some time in class (e.g., learning how to discuss prescriptions with patients) and some time on the job (in this case, working side-by-side with a pharmacist).
Schools in Colton-Redlands-Yucaipa Regional Occupational Program in Redlands, California, use Odysseyware to provide access to more students who are interested in exploring CTE, and to expose students to the online environment. "We know that when they go to post-secondary," says their superintendent Stephanie Houston, "students are going to need to understand and have some experience with the online arena."
4. CTE raises rigor and relevance.
Sure, the students love their hospitality course or pharmaceutical internship, but being enrolled in CTE courses doesn't mean they're exempt from reading, writing and math. In fact, CTE classes make core English and math classes even more relevant for students, particularly those who are at risk of dropping out.
For example, in addition to the obvious science tie-ins, Sandra Oligny's health-science classes at Zysart High School in El Mirage, Arizona, overlap with math when students do dosage calculations for pharmacology, and she has students submit research papers in the same format as their English courses to reinforce writing and research skills.
5. CTE brings application to a whole new level.
CTE instructors use instructional techniques that make knowledge and skills immediately applicable for students. Oligny's classroom is attached to a lab that's set up like a physical therapy clinic. So, after students have learned about a technique—like how to tape ankles to prevent injury—they go into the lab to try out the technique on one another.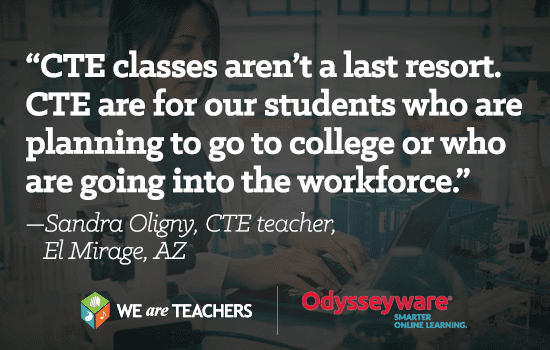 6. CTE is also for college-bound students.
Matthew Gambill, executive director of the Georgia ACTE, recommends that students whose goal is to attend a four-year college also take CTE courses. In addition to knowledge and skills, students can also experience the career they're interested in. If they want to study pre-med at Harvard, for example, taking a health-care CTE course will help them figure out what they do and don't like about that field. "CTE classes," Oligny agrees, "aren't a last resort. CTE is for our students who are planning to go to college or who are going into the workforce."
7. CTE classes are an integral part of high school learning.
Chances are, you know students who are enrolled in CTE. The vast majority of regular high schools—93.6 percent—offered CTE courses in 2008 (NCES), and more than 90 percent of high school students have taken a CTE course. "CTE isn't happening in isolation," says Houston. "We're not at the back of the campus: We're an integrated part of the academic day." That includes collaborating with general education teachers and making sure students know the academic vocabulary and content they're learning.
8. CTE is for younger kids too!
In the younger grades, CTE is more about developing skills and finding a sense of purpose than choosing a specific path. "We want kids to know what's out there for them," says Addis. "To know that anything they study has relevance and purpose." For example, in Tacoma, Washington, middle schoolers at Meeker Middle School worked with engineers at Milgard Manufacturing to solve the problem of designing a new type of window latch. Starting with clay, the students created a design, then produced it with 3-D printers in science and engineering classes before sharing their ideas with the company.
9. CTE makes students stand out.
"Employers express concern that students don't have the ability to think and reflect on their work," says Gene Bottoms, senior vice president of the Southern Regional Education Board. CTE addresses this with a focus on soft skills that include what Gambill calls "employability skills," like the ability to look someone in the eye and shake his/her hand firmly, and 21st-century skills, such as critical thinking, adaptability, collaboration, communication and creativity. Both sets are addressed in CTE courses as students tackle problems in a team environment.
In particular, when students work on projects, like designing and building a solar hot water heater in an engineering class, they fail over and over before they finally succeed. That builds perseverance and inventiveness.
10. After graduation, CTE is all about the Benjamins!
Taking CTE courses can mean earning as much as $19,000 more per year (ACTE). Over a lifetime, that's a lot of cash! It's even better for women. A study by the Federal Reserve Bank of Chicago found that one year of CTE coursework increased earnings for men by 14 percent and by 29 percent for women. Some of the boost in pay comes from certifications and credentials that students can earn from taking CTE courses. Oligny loves hearing from students who, after taking her class, have earned health-related credentials that help them get jobs.
11. CTE is in demand all around.
Employers want CTE grads. More than two-thirds of the jobs that are being created by 2018 will require some post-secondary training, but not quite a bachelor's degree, exactly the skills that CTE targets. Students are also interested in CTE. In New Jersey, the demand for CTE high schools exceeded capacity by about 17,000 more interested students than there were seats. "CTE is not just an elective for most students," says Plake. "It is their future."
12. CTE is a community for teachers and students.
Being part of a CTE program brings students together. Organizations like the Career and Technical Student Organizations (CTSO) host local, national and even international team competitions. Being part of a CTSO builds even more soft skills (public speaking, team work), says Marsan Carr, executive director of the Florida ACTE, and shows them what it's like to be part of a professional community.
13. Expect CTE to become the norm.
You can expect CTE and the core academic curriculum to become increasingly connected. "We're on the cusp of creating a pathway through high school that takes the traditional academic core and blends it with CTE to prepare students for a double purpose … both further study and career," says Bottoms.
Looking for more ideas on how to integrate CTE into your teaching? Check out Odysseyware's award-winning K-12 Core, Elective and CTE curriculum and instructional tools.