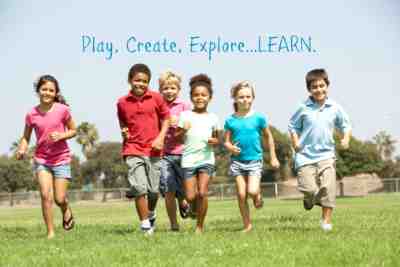 Have you ever noticed that when kids are engaged in hands-on activities, they become more invested in their education and motivated to learn? While schools should be a place to play, create and explore, sometimes we all get stuck in a worksheet rut. That's why we rounded up some of our favorite ways to bring the joy back to learning and help children thrive.
4 Ways to Play
Start your day with a walk around the school campus. Not only will kids burn off energy, you can informally talk about your goals for the day as well as kids' hopes and concerns.
Incorporate five-minute yoga or other mini-brain breaks. Giving kids a chance to move their bodies will help them to relax and focus on what's coming next.
Get on your feet for test review. Try playing a game of interactive Jeopardy or creating human sentences. The kinesthetic movement will help kids to remember the material.
Rethink your P.E. program. Instead of traditional volleyball or dodge ball, try hooking your kids on physical fitness through fun activities like dance, kickboxing, and gymnastics.
4 Ways to Create
Make book reports visual. Challenge kids to include a creative element such as a video, poster, diorama or T-shirt that explains their opinions of the last books they read.
Offer art supplies to fast finishers. Stock a plastic tub with markers, paper, crayons and glitter and invite students who finish an assignment early to illustrate one of the concepts they just learned.
Share your own creative interests. Whether you are a photographer, chef, writer or painter, talk with kids about your artistic pursuits and bring in examples of your work.
Bring art into the curriculum. How do the paintings of Frederic Remington inform our understanding of life in the American West? How does Ella Fitzgerald's music help us understand the Jazz Age? These creative connections can help learning stick.
4 Ways to Explore
Study your community. What are the social, ecological or economic issues facing your city or town? How can students take action and help to spread the word?
Analyze personal history. Have students interview their family members about important events that happened to them or to their ancestors. Use the interviews as a springboard for further research.
Use the engineering design cycle. Talk with kids about how engineers use a process of brainstorming, questioning, and testing to solve problems. Then pose your own challenge for students to solve.
Invite students to be the teachers. Assign small groups an upcoming concept in your curriculum or textbook, and challenge them to create an interactive lesson to teach the material.