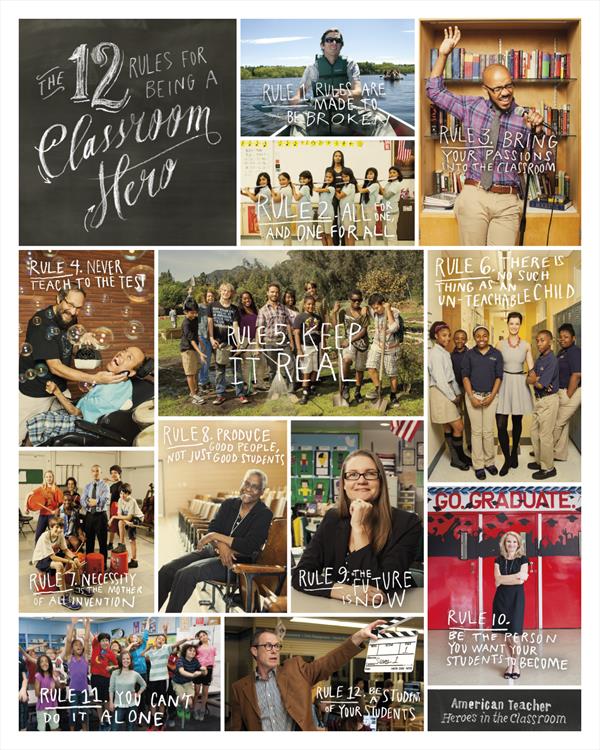 WeAreTeachers is pleased to share this guest post by writer Katrina Fried, excerpted from her new book American Teacher: Heroes in the Classroom which profiles fifty great teachers in the classroom. Available from Amazon and many local bookstores.
In the hundreds of hours I spent talking with public and public charter school teachers whose students are flourishing by any yardstick—including test scores, grades, graduation rates, and beyond, there emerged a number of commonalties. Though their styles of teaching and individual rubrics are as diverse as their students, threads of a shared methodology can be found woven throughout their narratives. I have come to think of these as the rules for being a true classroom hero.
1. Rules are made to be broken. Agricultural science teacher Pat Earle always tells his student teachers, "There are only three things you've got to remember every day. The first is, you've got to be prepared. The second is, you've got to be prepared. And the third is, you've got to be prepared." But perhaps of equal necessity is having the flexibility to modify or even scrap that plan and start from scratch. Great teachers are human barometers—attuned to the shifting moods of their students and amorphous qualities of their surroundings. "Each day is different," says Betty Brandenberg, who has been teaching middle school for more than twenty-five years. "You never know what's going to happen." Being responsive to one's environment goes hand in hand with a willingness to throw out the rule book sometimes and follow your instincts. When Michael Goodwin launched Rivers and Revolutions—an alternative interdisciplinary educational program, he did much more than retool a lesson plan: he reinvented the model for high-school curricula. Says Goodwin, "Really good education is all about risk-taking and about making a mess; learning is chaotic, right?"
2. All for one, and one for all. Great teachers have learned that taking the time to foster a classroom culture that's built on mutual respect and tolerance sets the stage for authentic learning. Donna Porter, who teaches oral communication to grades nine through twelve in Picayune, Mississippi, believes this to her core. She doesn't even ask her students to step up to the podium until halfway through the first semester. "I want to create this synergy in the room first, a familial atmosphere where my students start falling in love with one another, so they will be less fearful," she explains. Similarly, Suney Park, who teaches sixth grade in East Palo Alto, California, uses the metaphor of a pyramid to explain to her students the purpose of doing team-building exercises. "I tell them that at the very base, are the essential human needs like water, food, and shelter. Then we talk about emotional needs, like safety and acceptance. Without the first, you can't live. Without the second, you can't learn."
3. Bring your passions into the classroom. To keep "the fires burning" as Rafe Esquith describes it, many ambitious teachers have integrated their own interests and passions into their curricula. "I have three great loves in the world," says Esquith. "Baseball, rock 'n' roll, and Shakespeare. None of these are in the California curriculum, but they are all part of my classroom." In English teacher Clint Smith's case, he uses his gifts as an award-winning spoken-word artist to introduce his high-school students to the power of poetry. Sometimes bringing what you love into your teaching can spread beyond one classroom and influence the culture of an entire school, as is the case with Daryl Bilandzija. His commitment to environmental stewardship moved him to turn a half-acre of his school's campus into an Edible Learning Garden, which has transformed the identity of Odyssey Charter School in Altadena, California, and "put it on the map."
4.Never teach to the test. Despite the fact that both student and teacher assessments are directly tied to performance on the plethora of state-issued exams, there is not an educator among the fifty profiled in my book who approaches his or her curriculum with the primary end goal of achieving high scores—though make no mistake, their students do dominate. Why? Because these teachers are finding inventive ways to knit the standards into the fabric of their curricula. As Josh Anderson, who teaches English and coaches the debate team at Olathe Northwest High School in Kansas puts it, "Exceptional test scores, brilliant job applicants, and competitive colleges should simply be by- products of a great education, not the sole purpose of it."
5. Keep it real. Introducing real-world, hands-on applications of academic ideas—or as one classroom hero calls it, "learning to do and doing to learn"—is a mainstay of effective teaching. The notion that kids assimilate knowledge—rather than just memorize it—when they have an authentic purpose and context for learning is foundational to Janey Layman's lessons in computer systems. Her eighth graders, for instance, learn Excel by tracking and predicting the sales of their own lunchroom lemonade stand. In Ron Poplau's community service class at Shawnee Mission Northwest High School in Kansas, seniors discover firsthand the satisfaction that comes with giving back by committing their time to local nonprofits and individuals in need.
6. There is no such thing as an un-teachable child. "My students are kids just like any other kids. Of course they can learn. Of course they can love school. Of course they have a voice. They just need to learn how to use it." So says Julia King, who teaches math to seventh graders in Washington, DC. Believing that all children have the capacity to learn, regardless of their histories and circumstances, goes to the heart of what it means to be a successful educator in our public-school system, where classrooms are often comprised of students with a wide spectrum of abilities and proficiencies. As one classroom hero explains, "It is easy to find reasons why students don't learn; it is much harder, and much more rewarding, to find ways that they can." The key is meeting each child where they are. "Every kid wants to succeed," maintains band teacher Alvin Davis of Florida's Miramar High School. "No one in this world ever initially raises their hand and says, 'Hey, I want to be a failure.' You just have to find out what they're good at and then show them how to achieve."
7. Necessity is the mother of all invention. Perhaps no teacher better exemplifies this steadfast rule than itinerant music teacher Jason Chuong. Tasked with teaching percussion at seven different public schools in Philadelphia on an annual budget of $100, Chuong bought a slew of plastic paint buckets from the Home Depot for $2.80 a pop, and introduced his students to the urban art of bucket drumming. Being strapped for resources and funding is part and parcel for all of these teachers (most of whom have undoubtedly reached into their own pockets many times over), but none view this as an excuse to do less. Whether it's making the best of what they have, as Chuong has, or tapping outside sources for support, as Mississippi teacher Peggy Carlisle has done by receiving more than $180,000 in grants over the course of her career—outstanding teachers will always search for and find ways to give their students what they need to thrive.
8. Produce good people, not just good students. As the boundaries between school and home grow increasingly blurred, particularly in at-risk urban communities, many teachers feel called to assume a more parental role in their students' lives. And like any good parent, their aim is to raise confident, compassionate, civic-minded, and independent children. When Michelle Evans transforms her classroom into a virtual economy-based community each year, her sixth graders learn far more than how to balance their checkbooks—they also discover the true meaning of good citizenship. Dave Crumbine, of the KIPP Academy in Houston, actually teaches a class called Life to his fifth graders, which aims to help kids develop their own moral compass and a skill set for becoming well- rounded human beings. In Helena Moss-Jack's music room, in an area of East Oakland she refers to as "the 'hood," Moss-Jack often finds herself acting as much a mentor as a teacher: "Many of them don't have an adult to go to; I leave my door open so that the children understand I am a listener for them, and if I'm not the right person to help, I'm going to find the right person."
9. The future is now. As technology advances at a feverish pace, it seems a foregone conclusion that new media will play a significant role in the future of the American classroom. Already, many teachers have found the integration of technology and education to be a game changer. The "instant access to information is making our students' learning more efficient, and it's making the impossible possible," says physics teacher and self-professed technology geek Greg Schwanbeck. An early proponent of technology as an educational tool, Esther Wojcicki—who leads an award-winning journalism program in northern California—began using computers in the classroom as far back as 1987. So passionate is she about the use of new media as a teaching tool, she frequently provides technology training to fellow educators—"There are a lot of people who still need to be enlightened; so, that's what I do." In Escondido, California, Joanne Fox not only uses iPods in her fourth-grade classroom—she has also created video lessons and embraced the "flipped learning" model to teach her math curriculum. "It's not that I consciously try to plan a lesson that has technology in it," Fox explains. "It's just that it's woven in. It's almost invisible."
10. Be the person you want your students to become. Or as Gandhi once said, "Be the change you want to see in the world." Our best teachers believe that being a model for their students is one of the pillars of providing a successful education. Says Jane Klir Viau, who teaches AP Statistics to inner-city students in New York: "In order to expect commitment from my students, I must first demonstrate my own commitment to each of them." Rafe Esquith puts an even sharper point on it: "Our main mission in my class is to be nice and to work hard. That means I have to be the nicest and hardest-working person the students have ever met."
11. You can't do it alone. The vast majority these classroom heroes have learned firsthand that mentorship and collaboration are requisites to becoming the best teachers they can be. As Jeff Charbonneau, 2013 National Teacher of the Year, puts it, "Success does not occur in isolation." Many experienced teachers, like Jason Fulmer of South Carolina, have even made it their mission to provide continued training to classroom educators: "We do a lot of great things around this country, recruiting top-notch people to the profession, but we have to meet them when they arrive and make greater efforts to retain and support them once they get there." For new teachers just starting out, seeking support is an absolute must. "I have learned that building strong, real collaborative relationships is the single best thing I can do in the service of my students," says seven-year urban-ed veteran Celeste Hoffpauir. "Honestly, without that, I don't know if I would have found the strength and courage to stay an educator."
12. Be a student of your students. Sarah Brown Wessling, 2010 National Teacher of the Year, refers to herself not as the teacher of her students, but simply as the "lead learner." "Because of my own willingness to put myself in the same positions I put my students in, I recognize that the path to autonomous learning is not through the accumulation of facts, but through the messy and edifying pursuit of ideas." The essence of this student-centered teaching philosophy is the fervent belief that empowerment is the key to true learning. Encouraging students to take ownership of their ideas and voices, and joining them in their process of discovery, opens the doorway to higher learning for teacher and student alike. When Stephen Ritz, who had no experience in the art or science of gardening, chose to try and grow a box of donated flower bulbs with his inner-city special-ed students, he had no clue it would evolve into a community-wide environmental program that would uplift the lives of thousands. Had he been unwilling to learn alongside and from his students, history would have written itself quite differently. Perhaps Vermont Teacher of the Year Jay Hoffman, who has been teaching media arts for eighteen years, sums it up best: "You think you are going to teach, but boy, do you learn."
Teachers: What rule would you add? Share your thoughts in the comments. We'll give away 5 copies of American Teacher to 5 lucky readers!