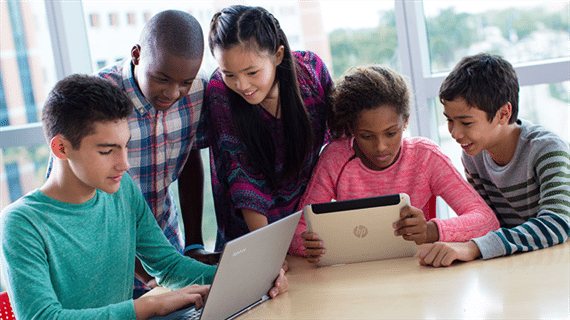 You know that time wormhole that sucks you in when you find an amazing new website? Lately for us, that wonderful wormhole has been the new Microsoft Educator Community. Within it we have found a bunch of new teaching resources, cool virtual field trips for our students, free trainings, teacher discounts and more. Here are our 11 favorite aspects of this teacher community site (sorrynotsorry for sucking you in, too.)
1. Learn to code
Admit it: This has been on your to-do list forever. Now you can finally learn coding basics and progress on your own time, completely free, thanks to the Microsoft Virtual Academy coding courses. You can also learn right along with your students via Microsoft Imagine, the hub for teaching coding to students of all ages (again, at no cost.)
2. Invite experts to your classroom
Those Newberry-winning author visits and jaw-dropping guest speakers are not just for metropolitan schools. Any classroom can host incredible guest speakers through Skype in the Classroom. You can easily access guest speakers who are at the ready to share their knowledge with your students. Just search by subject and age group to find a great guest speaker best suited for your class.

3. Take your students on virtual fields trips
Not only can you bring visitors to your classroom, you can also take your students to far off places…virtually. The virtual field trips available in the Microsoft Educator Community are growing every day, and searchable by grade level, subjects, country destination and more.
4. Play Mystery Skype
Get your students guessing about geography, cultures and students across the globe. Mystery Skype is an interactive learning game in which two classrooms use Skype and ask a series of questions to guess each other's locations. It's exciting for both classrooms (and teachers!) involved. Connect with other classrooms who want to Mystery Skpe.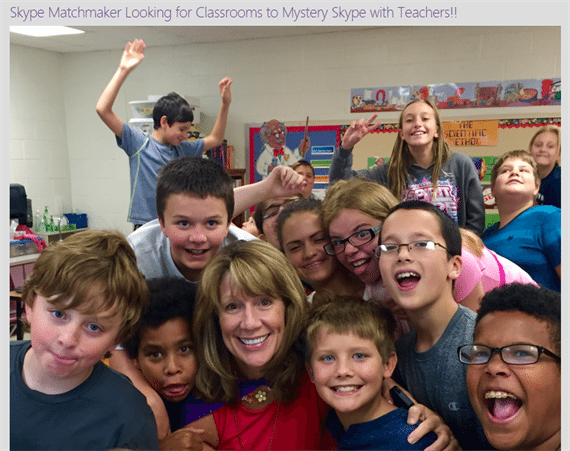 5. Bring Minecraft into your classroom
Pull up Minecraft on the Promethean or on your students' devices and immediately you will have their attention. Microsoft has honed your students' favorite game as a channel for engaging students in a wide range of subjects with Minecraft Education. A great place to start? The Minecraft #HourofCode tutorial.
6. Lesson plans you will use (really)
The educator-created lesson plans fellow teachers have shared in the community are effective, curriculum-aligned and simple to locate for your needs. We were able to find poetry lessons for third graders and world geography lessons for middle school students that meshed with perfectly with our classroom goals, saving us from recreating yet another wheel.
7. Lightning fast how-to videos
We understand that "learning lasts a lifetime," but sometimes we do not need a major continued learning course. Sometimes we just need to learn how to make an infographic … pronto! That's where the Quick Tip Videos come in handy. These two-three minute videos clearly and concisely answer common technical questions for teachers.
8. Courses for true professional development
But when you want to take the time to really increase your educational knowledge base (and improve your résumé,) the Microsoft Teacher Academy courses are a great start. Search by skills development category, subject areas or student age group to locate the courses that will best bolster your skills.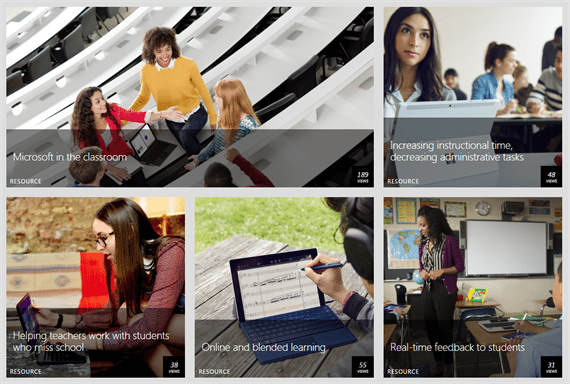 9. Become a trainer
For the over-achievers: To max out all the career development opportunities available in the Microsoft Educator Community, sign up to earn your Microsoft Innovative Educator (MIE) Trainer and MIE Master Trainer badges. These official certifications in Microsoft education tools are recognized by schools and districts as symbols of excellence. Serving as an official MIE Trainer to students and colleagues can be both personally and professionally rewarding.
10. Mad fab freebies
Here's a teacher benefits and discounts page that blows those craft supplies deals out of the water. These special offers for educators provide you with free software for classroom and personal use, such as Office 365 Education and Windows 10 Education, and give you exclusive educator deals on Windows devices.
11. Connect with other teachers
The discussion boards in the Microsoft Education Communities are a place where you can connect with other teachers around the world … or in your own area. Find answers to education questions, share your knowledge and expand your network. You can never have too many places to reach out for support.