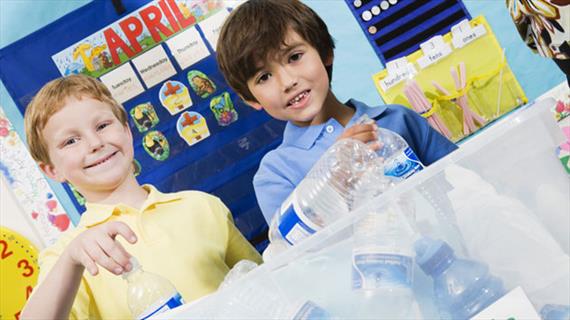 You know it. Running an organized and creative classroom can cost a fortune in supplies. Between art materials, office supplies and Container Store "necessities," it can feel like a big chunk of your salary is going right back to your school. It doesn't have to be like that. There are plenty of free classroom materials available as close as your (and your neighbor's) recycling bin! We asked our teacher fans on Facebook to share their favorite tricks for reusing everyday items in the classroom.
Yogurt cups: I use single-serving yogurt cups in all sorts of ways in my art classroom. Clean yogurt cups can hold paint or water for brushes, tiles for mosaics, beads for jewelry making or nails for wordwork. The kids love to bring their old containers to me from their lunches! —Joyce D.
Soap dispensers: Save those liquid-soap containers! I use them to hold multiple colors of tempera paints. Students can squeeze a little onto the paper at a time. Saves on mess and on paint! —Toni C.
Single socks: I use socks that have lost their mates as erasers on my students' dry erase boards. Used dryer sheets also make great and sweet-smelling erasers! —Shannon O.
Plastic coffee cans: Send out a note to parents and find out who has Folgers plastic coffee cans. Use them to hold four desk legs together in a square. Use them for everything from LEGO blocks to crayons. Bonus: Here's a link where you can print out labels that fit coffee canisters. —April B.
Diaper-wipe boxes: Diaper-wipe boxes are nearly indestructible and perfect for all sorts of supplies. I'll never buy a container at Target again! —Staci W.
Address labels: I cut off the cute pictures on all those address labels that come in the mail and use them as stickers for my class. —Joanne H.
Old cookie sheets: I take scratched, rusty old cookie sheets and spray-paint them bright colors. My students use them for magnetic letters and numbers. —Erin B.
Tissue boxes: Colorful tissue boxes with the top cut out make great containers for desk group materials, like glue sticks and scissors. —Lori Ann S.
Plastic trays: Lean Cuisine plastic trays have tons of uses in the art room—paint trays, oil pastels, mosaic squares—the uses are endless! —Jane Shores
Glass bottles: I did a Bash the Trash activity. We use recycled materials (glass bottles, cookie tins, etc.) to make musical instruments. The kids loved it! (I teach STEM in 5th grade.) —Lorraine R.
What recycled materials do you use to help you stay organized?