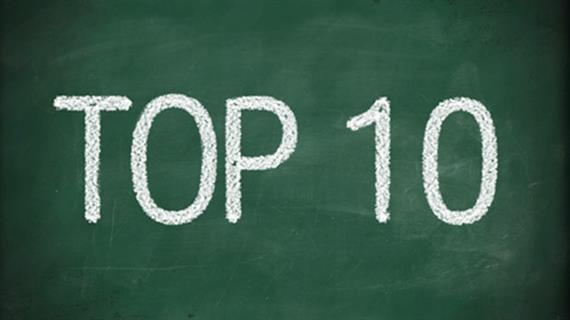 Isn't it great to collaborate with other teachers—to learn from their mistakes, to work together to come up with brilliant ideas and to build the school that your students need to learn and succeed? Of course, even if you have the best co-workers in the world, it wouldn't hurt to have a few special collaborators to help you through those really tough moments. Here are a few "teachers" that we'd want on our team.
Arnold Schwarzenegger: The Kindergarten Cop Schwarzenegger—not Terminator Schwarzenegger or Governor Schwarzenegger—is the perfect mix of firm-yet-fun and calm-yet-savvy. That and he always has a quick and witty response to each and every question the kindergarteners throw at him. Even questions about body parts.
Leslie Knope: Leslie is a go-getter—always going out of her way to make sure her department is the best that it could be. (You know if she were a teacher, she wouldn't mind running off your copies for you while she's in the copy room.)
Justin Bieber: Your principal is always telling you to get more hands-on with your lessons—and Justin's fear of dirty hands could serve as your daily reminder to expose your kids to all sorts of things.
Okay, the Terminator Schwarzenegger: Come to think of it, the Terminator Schwarzenegger's "I'll be back" would really come in handy if you had to, say, run to the restroom really quickly while the kids were doing math problems.
Ryan Seacrest: With Ryan on your team, you'd never have to worry about classroom management on the day you do your infamous "game show" lesson. That and you'd never have to worry about being chosen as the "teacher hostess" for the school-wide assembly.
Rudolph the Red-Nosed Reindeer: Good ole' Rudy and his comeback kid story could really serve as a motivator for your struggling students. Or for those days that you aren't quite sure you're going to make it to lunch.
Jerry Lewis: With a famous telethon host on your team, you could forget about next week's bake sale (you know, the one where you'll be up making cookies until midnight because you couldn't find any parent volunteers).
Sue Sylvester from "Glee": We admit that Sue might not be our first choice for a collaborator—that megaphone could get a little annoying. But, when push comes to shove, Sue is always going to make sure your students are doing their best. Or else they'll be running laps in the gym after school.
A Starbucks Barista: Someone has to bring coffee to your meetings, right?
And we guess, Governor Schwarzenegger: You know, having the old gov on your team to help you navigate tricky school politics couldn't hurt.
Question for you: Which "teachers"—real or imaginary—would you want on your teaching team?