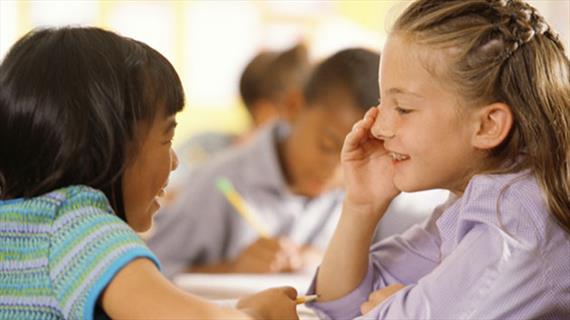 By guest blogger Kelly Booth

Over the years, I have come to realize that developing a strong classroom community is probably the most effective classroom-management strategy. When students come together as a cohesive unit that takes pride in learning, disruptions and misbehaviors are greatly reduced. Here are 10 quick and easy ways to increase the sense of community within your own classroom.
Work as a class to create a classroom constitution. Have students work together to brainstorm their most important guidelines for a successful learning community. Once students have decided on the five or six most important points, write them in a pledge form on posterboard. Have all students sign the pledge and hang it on the wall where the students can see it.
Every day after the Pledge of Allegiance, have students recite the classroom pledge that they created.
Conduct a morning meeting. Have students sit in a circle. The first student should turn to the student on his/her right, shake hands and say good morning, being sure to say the name of the student whose hand they are shaking. Once the hand shaking and greeting has gone all the way around the circle, you can open the meeting up for discussion. Students love to share important things in their lives!
Assign each student a classroom job that changes weekly.
Periodically invite students to eat lunch with you. Do it just because or for something special like a birthday or congratulatory celebration.
Move students' desks together so that they work cooperatively. Allow students time to talk with their partners in their table groups about both academic and personal subjects.
Purchase some "All About Me" posters from a teacher store (or create your own). Each week assign the role of star student to a different child. The star student should take his/her poster home and fill it out, adding pictures or drawings. Allow the star student to present the poster to the class and give classmates time to ask questions. Hang each star student poster up on the wall for the week.
Get a large jar and some marbles. Put a handful of marbles in the jar each time the class does something exceptional. When the jar is full, the whole class earns a reward.
Read the book "How Full Is Your Bucket? For Kids" by Tom Rath to the class. After the reading, have a class discussion about the book. Create a bucket bulletin board and leave a stack of raindrops big enough for kids to write on near the bucket. Students can write ways that their classmates filled up their bucket and then stick them up on the bulletin board.
Read the book

"Wilfrid Gordon McDonald Partridge"

by Mem Fox. Over the next few days, have students bring in something that makes them laugh, cry, etc. Students can share their items and why they are special with their classmates and then use those items as a starting point for a piece of writing.